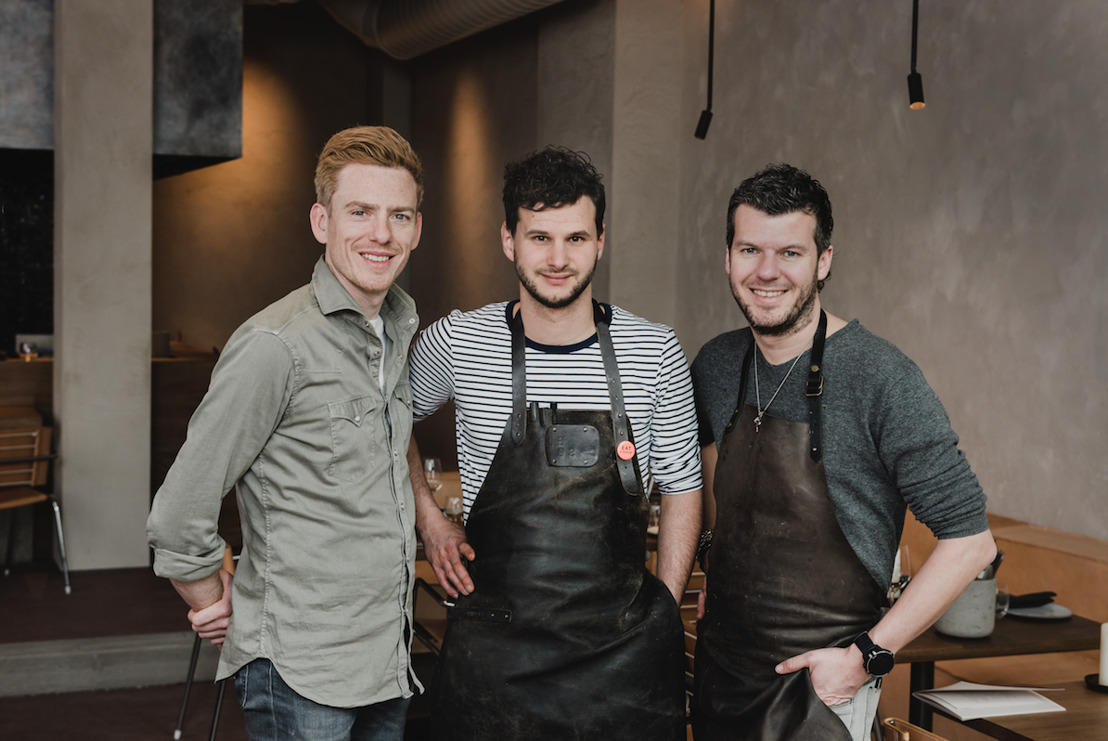 Team behind Hertog Jan takes L.E.S.S. to a new level in the heart of Bruges
A new start for Gert De Mangeleer and Joachim Boudens
Sunday 10 March 2019 — Only a few months after the closure of their three-star restaurant Hertog Jan at the end of December 2018, Gert De Mangeleer and Joachim Boudens open their first new restaurant. It concerns an updated version of their sharing restaurant L.E.S.S.. The new L.E.S.S. by Hertog Jan*** is a worldly inspired eatery where you can satisfy small and large culinary cravings in the well-known L.E.S.S. style. Moreover, the duo creates a stylish and surprising interior by Another Office. On Monday 11 March, L.E.S.S. by Hertog Jan*** opens its doors on the completely renovated square 't Zand in the heart of Bruges.
For Gert and Joachim, the end of Hertog Jan means the start of a new story with the expansion of L.E.S.S. (Love. Eat. Share. Smile.) in the first place. In recent months, the L.E.S.S. team has been busy drawing up plans for the new location and further refining the concept.
At the former location of L.E.S.S. -at Torhoutse Steenweg in Sint-Michiel- a completely new restaurant with a focus on the classic Belgian and French cuisine will be built later on, in a new, creative and above all super tasty style. Like all future culinary projects by Gert and Joachim, this new concept will also bear the caption 'by Hertog Jan***'.
L.E.S.S. BY HERTOG JAN***
L.E.S.S. by Hertog Jan*** is a worldly inspired eatery where you can satisfy small and large culinary cravings, focusing on the well-known L.E.S.S. formula of sharing. The L.E.S.S. kitchen team under the daily management of chef Ruige Vermeire cooks delicious dishes inspired by flavors from around the world. On the menu you'll find things Gert eats at home with friends and family, from a Marrakech burger to ceviche from Peru and dimsum from Hong Kong. Joachim provides an exquisite selection of wines and beers. He leaves the well-trodden paths and presents new discoveries from all over the world.
L.E.S.S. by Hertog Jan*** guarantees surprising worldly flavours in a warm and atmospheric interior, accompanied by the eclectic playlists of the Belgian DJ and producer Buscemi.
People who want to dine a bit earlier and who still have plans afterwards can order a delicious and quick 'pre-theatre menu' between 6 pm and 6.45 pm.
Signature dishes

° tarbot "Hong Kong style"
° sea bass in salt crust
° crispy duck salad
° miso chicken
INTERIOR
Gert and Joachim provide the new L.E.S.S. by Hertog Jan*** with an attractive interior in collaboration with Tommy Van den Brandt of Another Office. Van den Brandt creates a brutalist interior in which there is room for warm materials, with lived through wooden tables, textured walls, a nubuck leather sofa and refined textiles by textile designer Nathalie Van der Massen. At the same time, the visible techniques in the ceiling and the use of patinated metal create a fascinating contrast and an international-looking result, in which guests are invited for an extensive breakfast, lunch or dinner experience.
Eye-catchers are certainly the oxblood-colored cement floor, the low seating kitchen counter with room for 17 people and the chunky leather sofa you would expect in a living room, rather than at a dining table. But also the terrace and the veranda will not go unnoticed. There Gert and Joachim choose a solid wooden construction in dark stained paddock and special glass that provides the ideal temperature in all weather types.
The iconic 'TBA chair', designed in 1959 by Belgian designer Christophe Gevers, was brought back into production exclusively for L.E.S.S..
PRACTICALITIES
The L.E.S.S. kitchen is open from 12.00am to 14.30pm and from 8.00pm to 10.00pm.
Closed on Wednesdays and Sundays.
The restaurant can accommodate 65 guests.
L.E.S.S. by Hertog Jan***
't Zand 21
8000 Bruges
MORE BY HERTOG JAN***
Gert and Joachim certainly don't say goodbye to top gastronomy. They think they can still exceed their level and will occasionally give the best of themselves in the former Hertog Jan farm in the form of very select 'guest tables'. For the occasion it will be given a new, more homely look. Under the name MORE by Hertog Jan*** guests can therefore register at regular released times for a very intimate gastronomic top experience at Gert and Joachim. A maximum of fourteen people will be able to sit down for an unforgettable culinary experience.
______________________________________________________________________
ABOUT GERT DE MANGELEER
Chef Gert De Mangeleer gained experience in a number of top restaurants, but his entirely unique style of cooking is above all the result of a personal voyage of discovery. Soon after taking over Hertog Jan, Gert was praised for his quirky combinations of flavours, his refinement and his talent for combining various ingredients and techniques into one ensemble. At the same time, the cuisine of Hertog Jan is very pure and natural, a result of the central position Geert allotted the harvest from the restaurant's own garden.
Gert was awarded his first star by Michelin in 2007 and a second one in 2010. In 2012 the highest honour followed: a third Michelin star. In the meantime, he has received a lot of recognition both at home and abroad: amongst other things Gert was elected 'European Chef' in 2014. The restaurant Hertog Jan closed its doors at the end of 2018 to make room for new plans.
ABOUT JOACHIM BOUDENS
Joachim Boudens is a former winner of the prestigious Prosper Montagné contest 'First Sommelier of Belgium'. In addition, he was elected the 'Sommelier of the Year' in 2011 and in 2012 the 'Belgian Beer Ambassador'. Since he took over Hertog Jan with soulmate Gert De Mangeleer in 2005, he has developed into a passionate host and took on a large part of the day-to-day management. Furthermore, for the past 5 years Joachim has been the editor in chief of Foodprint, 'the gastronomic annual'.
______________________________________________________________________
For more information or to schedule an interview, please contact lies@vonyellow.be